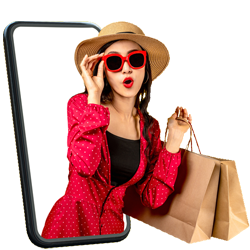 Fayetteville shoppers are expected to spend a record $1.1 billion online in 2020, based on the most recent projections from eMarketer. This would represent year-over-year growth of 32.4%.
During the same period, according to eMarketer, receipts at brick-and-mortar stores have contracted by 3.2%. Overall, excluding gas and auto sales, e-commerce will account for 20.6% of all retail sales this year.
The Coronavirus pandemic is credited with this seismic shift in shopping behavior as consumers continue to avoid stores and opt for online shopping.
"We've seen e-commerce accelerate in ways that didn't seem possible last spring, given the extent of the economic crisis," said Andrew Lipsman, eMarketer principal analyst at Insider Intelligence. "While much of the shift has been led by essential categories like grocery, there has been surprising strength in discretionary categories like consumer electronics and home furnishings that benefited from pandemic-driven lifestyle needs."
Even before the onset of the pandemic, 71.8% of Fayetteville consumers had bought goods online over the prior six months, according to Nielsen research. Purchases included clothing, health & beauty products, travel reservations, books, furniture, and groceries.