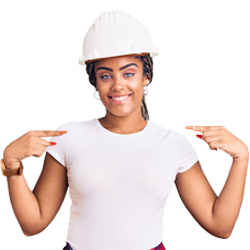 Construction companies in the Fayetteville, North Carolina area will need to recruit 895 blue-collar workers on top of the normal pace of hiring in 2022 to meet the demands of the current building market. These statistics are based on forecasts from Associated Builders and Contractors, Inc. (ABC), an association comprised primarily of U.S. firms that work in industrial and commercial construction sectors.
"The construction industry desperately needs qualified, skilled craft professionals to build America," said Michael Bellaman, ABC president and CEO. "The Infrastructure Investment and Jobs Act passed in November and stimulus from COVID-19 relief will pump billions in new spending into our nation's most critical infrastructure, and qualified craft professionals are essential to efficiently modernize roads, bridges, energy production, and other projects across the country. More regulations and less worker freedom make it harder to fill these jobs."
The construction industry's appetite for new hires in the Fayetteville area will continue into 2023, according to ABC. It is expected that during that year, an additional 813 blue-collar workers in addition to the normal pace of hiring.