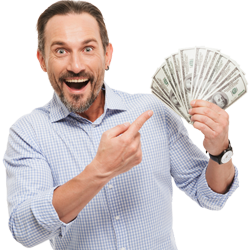 Fayetteville, North Carolina area residents will begin receiving economic stimulus checks from the Internal Revenue Service as early as today. In all, local consumers will receive more than $550 million in payments.
This infusion of cash into the Fayetteville economy was authorized by Congress last week in the American Rescue Plan legislation.
The stimulus relief legislation calls for a one-time payment of $1,400 to single adults. Married couples who filed jointly will receive $2,800 total ($1,400 apiece). Families will get an additional $1,400 for each eligible dependent regardless of age. A family of four could get $5,600 in total payments. Like the second round of stimulus payments, the third round specifically prohibits payments to anyone who died before January 1, 2020.
Many of the stimulus dollars will end up in the wallets of 104,000 Fayetteville area homeowners. Based on research from Modernize, a leader in the home improvement and home services industry, 57% of these consumers are planning to spend all or part of their checks on home improvement projects.