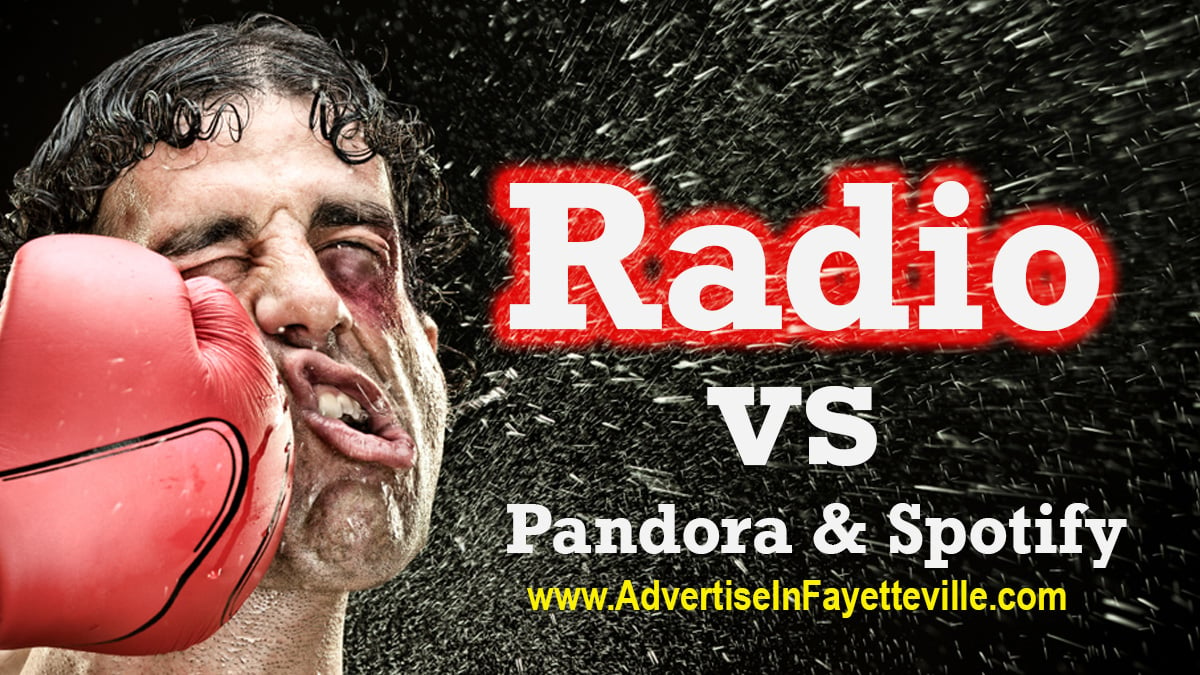 Despite, some local business owners' perceptions to the contrary, streaming audio services like Spotify and Pandora have not made a dent in the dominance of Fayetteville radio among local consumers.

Last week, among all the advertising media available to Fayetteville small business owners, 288,946 adult adults tuned-in to a local radio station. This is substantially more than watched local TV or read a local newspaper.

Furthermore, more than twice as many adult consumers, tuned-in to Fayetteville radio stations than used a streaming audio site like Spotify or Pandora.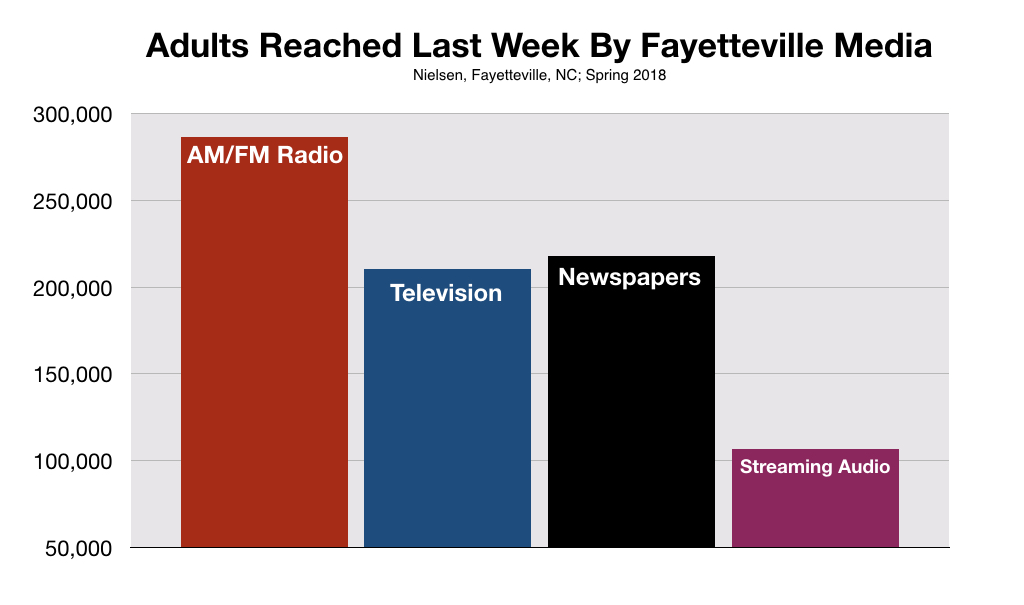 What some business owners might find most surprising is that advertising on Fayetteville radio reaches more significantly more millennials than streaming audio sites like Pandora or Spotify.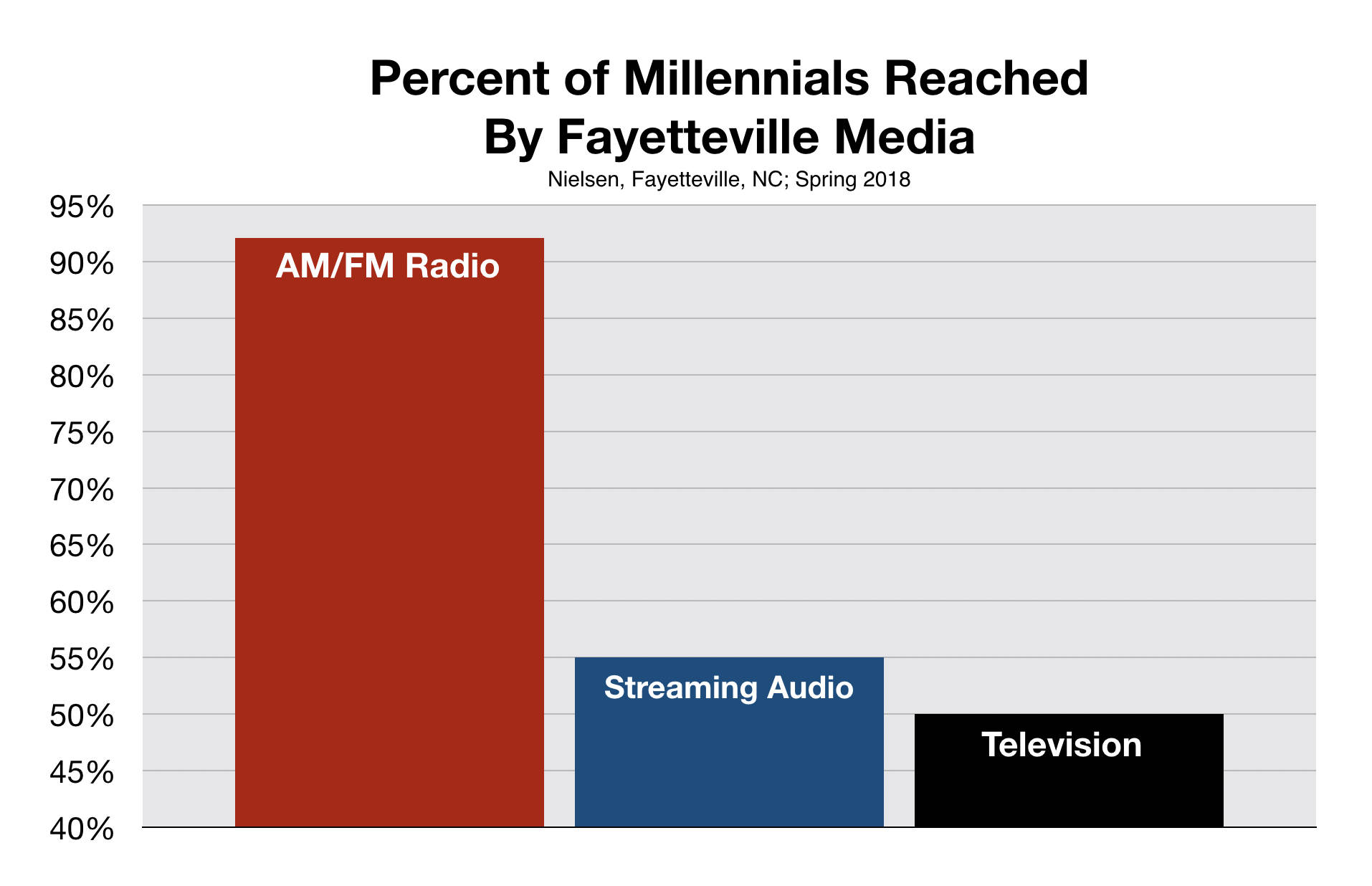 In a recent article for Quartz, a newsletter that advises business leaders, Amy X. Wang asks, "Why the gloom? Radio survived the tape, CD, and iPod. In the age of Spotify, radio is more alive than ever.
James Grafstrom agrees. He operates Fayetteville's Crown Complex for his company, Spectra Venue Management. Since 2013, Mr. Graftsrom has depended on local radio to build and maintain the Crown's brand.
Bottom Line: People Listen To Fayetteville Radio
"Although the media landscape has changed, no matter how you look at it," he says, "radio is still in the forefront. People are in their cars every day whether they going to work or coming home. During that time, they are listening to Fayetteville radio. They might be listening to a rock station; a pop station; a rap station; a talk station; or a county station. But the bottom line is they are listening."
"They might not have a chance to look at the newspaper that day, or check Facebook," Mr. Grafstrom continues, "but because they are captive in their cars, we can reach them with our message, even if it just for 15 or 30 seconds. I see this as a real value to keep The Crown Complex top-of-mind in our community."
The Lumbee River Electric Membership Corporation also understands the strength of advertising on Fayetteville radio. The company, which provides electricity to more than 250,000 residents of Cumberland, Robeson, Hoke and Scotland counties, has been advertising on radio non-stop for the past 16 years.
Advertising On Fayetteville Radio Builds Local Identity
According to Walther White, Lumbee River's Vice President of Corporate Communications, "It is important to us that our membership sees us participating in their lives by investing in the communities where we all live. Radio advertising allows us to speak in this broader concept."
"Fayetteville radio stations are the best partners for this approach, "Mr. White adds. "The local on-air personalities are like gods in our community. They have earned the trust and reflect the values of their listeners."
"We can't depend on options like Pandora, Spotify or social media to help with these sorts of endeavors," he continues, "because they just don't have the local presence we need to be successful."
We Should Pay More Attention To Radio Advertising
In an article in Forbes, media expert Doug Schoen writes, "You wouldn't know it from all the media coverage focused on streaming video and streaming music, but recent Nielsen data shows radio actually has the most reach among American media consumers. 93% of adults listen to the radio each week as compared to 87% who watch TV, a substantive difference."
Mr. Schoen concludes, "It's quite clear that we should all be paying more attention to radio, its reach and potential to help our businesses. It's doing the job with expert efficiency."
Learn More About Advertising In Fayetteville