Just about every adult in Fayetteville spent, on average, 15 hours last week listening to the radio. As a matter of fact, more people tuned-in to their favorite Fayetteville radio station than watched TV; read a newspaper, or logged-on to Pandora and Spotify.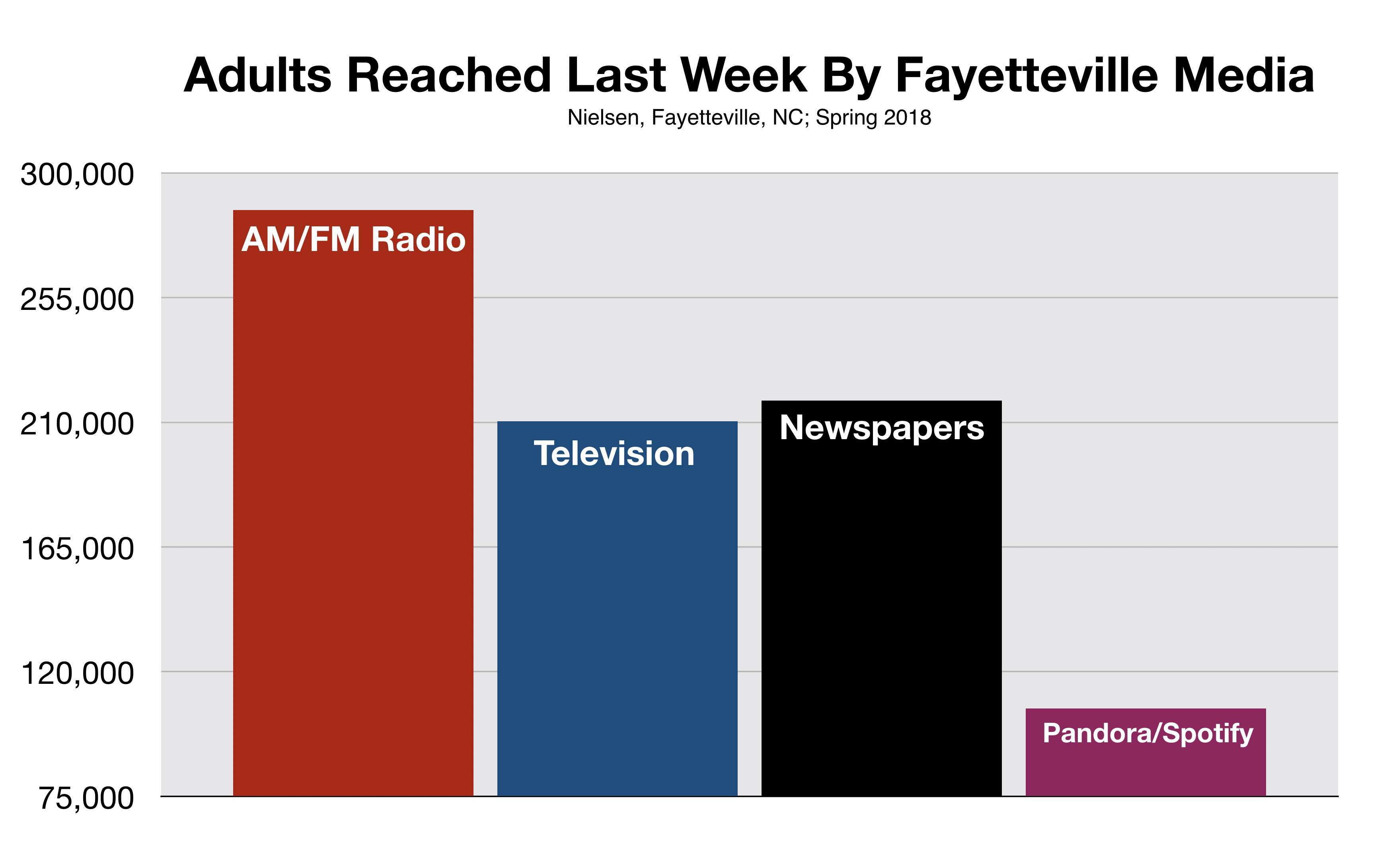 "Sure," a Fayetteville small business owner said to me. "People are still tuning-in to local radio stations, but do they switch stations when my commercial comes on?"
Not to worry. Unlike TV, which makes avoiding commercials a breeze, there is no ad-skipping technology for radio. As a result, a study by Nielsen reveals that 93% of radio listeners stick around for the ads.
This raises the question: Consumers are not button-pushing during radio commercials, but are they paying attention to the content of the advertising? Research says YES.
Radio advertising is converting listeners to customers. Here is the proof.
A study conducted by Dial Report, a company that measures advertising attribution, revealed that retail traffic was 22% higher among consumers who were exposed to a business's radio commercials.
These results varied by product category, but in all cases, radio advertising had a dramatic effect on in-store foot traffic.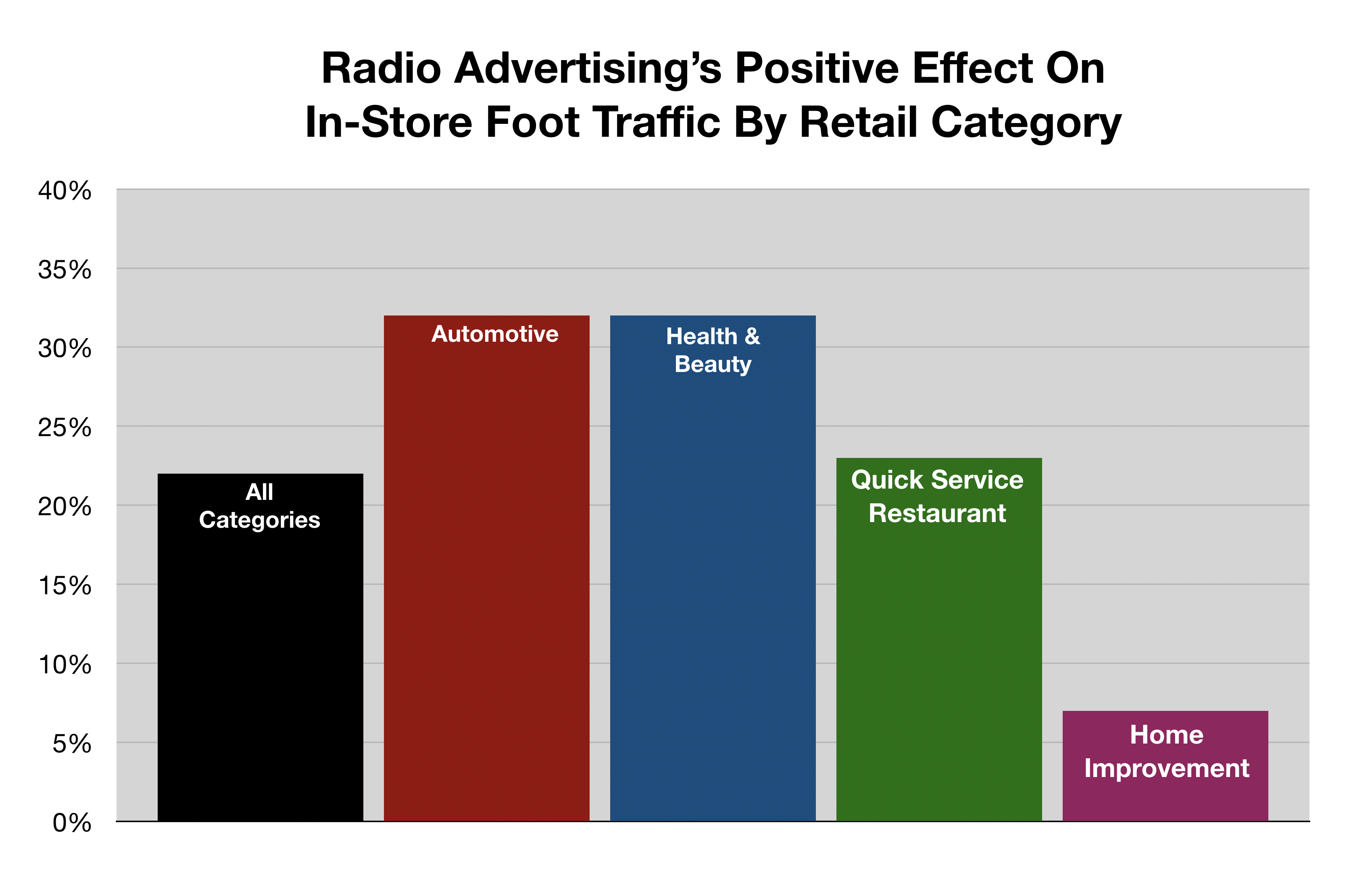 Not only has radio advertising been proven to have a significant effect on in-store foot traffic, but it has also can compel listeners to visit a business's website.
According to research by Sequent Partners, radio advertising created a 29% increase in online search activity for the product categories and brands that were involved in the study.
The study measured the website visitation increases generated by 2100 local radio ads across six different product categories. The results were definitive. Radio drove listeners to the web for more information.
The study first looked at the number of Google searches that typically occur for the subject product category and brands. This information creates a baseline of pre-radio expectations.

Next, search activity was measured for the times when radio advertising occurred for the subject categories and brands. The results were overlaid on the baseline.
The green bars above, indicate the days and time radio advertising aired. The green peaks highlight the incremental search that is attributable to radio advertising.

Most importantly, radio proved to be successful for every brand involved in the study.
Automotive Brand: +7%
E-Commerce Brand: +9%
Wireless Communication: +18%
Auto Aftermarket Retailer: +65%
Insurance: +73%
Jewelry: +370%
Aime Crouter, co-owner of Cape Fear Flooring in Fayetteville knows first hand that radio advertising works for her business.
"We began advertising on Fayetteville radio in 2000, a year after we opened," remembers co-owner, Amie Crouter. "We had just expanded into water mitigation a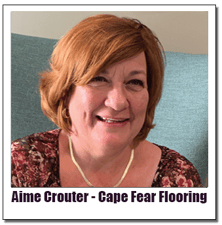 few months earlier. I had just set up an account with Mohawk, one of the largest manufacturers of floor coverings in the world. And, we had just sold our first flooring job even before we had hired an installer."
After 18 years, Cape Fear Flooring still advertises on Fayetteville radio. "Radio advertising has really driven our growth from the beginning," says Ms. Crouter. "We have always asked new customers how they found out about us. Overwhelmingly, we are told they heard our radio commercials."
Joe Quigg, owner of Ed's Tire & Auto Service, has been advertising on. Fayetteville radio consistently since 2009. It's also the only medium he currently uses to attract new customers.
"Every week that goes by," says Mr. Quigg, "five or six customers tell me they came in because they heard us on the radio."
"When it comes to spending money, I am very conservative," continues Mr. Quigg. "I don't like spending money I don't have to. Our sales have grown every year since I have owned the business. Radio has been a big spend for us, but it has also been a big part of our growth. I wouldn't be willing to do without it."
The evidence is overwhelming. Consumers, absolutely, do listen to commercials on Fayetteville radio. More importantly, these listeners become customers.