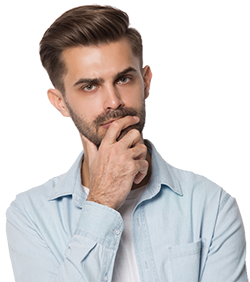 Advertising is critical to the growth and ultimate success of a Fayetteville small business. The U.S. Small Business Administration recommends that mature businesses should budget 7-8% of its annual income for advertising the company's goods and services.
Businesses who are in their early growth phase, however, should plan on investing 10-12%. Start-up companies that may not yet be familiar to their target consumers should consider investing even a larger percentage.
Deloitte, the world's largest business consulting firm, recommends that "radio advertising should be a big part of the mix for those buying advertising."
"Radio's weekly reach, the percentage of people who listen to radio at least once per week, has been remarkably stable in the United States," says Deloitte. "Not only has reach hovered around 94% for the last few years, but that number is essentially unchanged from the 94.9% percent figure in spring 2001 when Apple introduced the iPod."
Last week, for instance, close to 300,000 adult consumers tuned-in to a Fayetteville radio station. This is significantly higher reach than local TV, newspaper, streaming audio, and social media.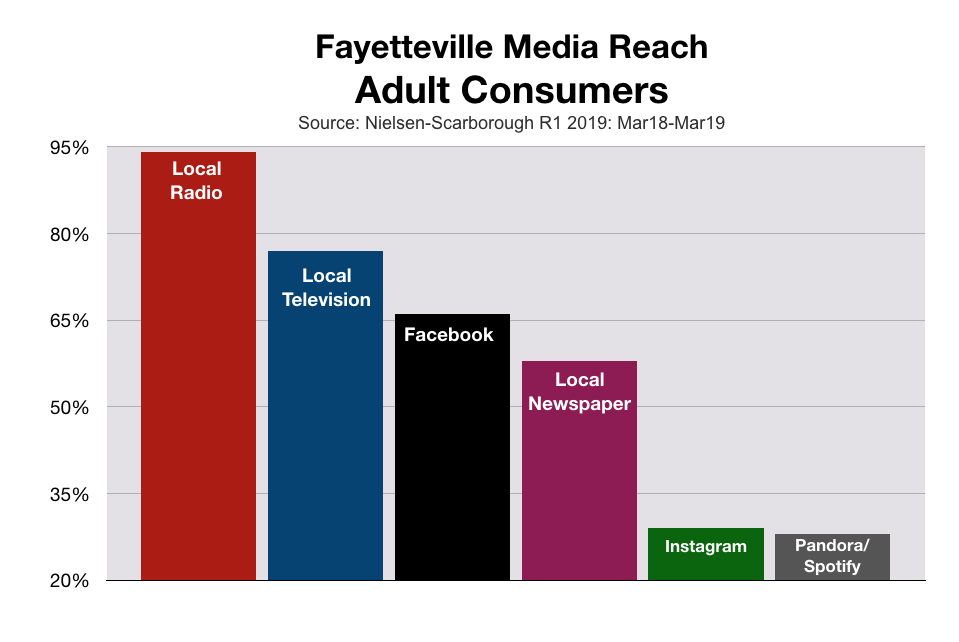 But, does advertising on Fayetteville radio make the cash registers of small business owners ring?
Joe Quigg began advertising on Fayetteville radio shortly after buying Ed's Tire and Auto service from the original owner, Ed Melvin.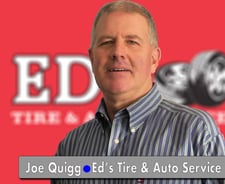 "Ed, who served as my mentor for the first few years, had been huge in yellow pages and newspaper advertising," says Mr. Quigg. "He feared that if we quit advertising four days a week in the newspaper, then the world would end.
"I knew, though, that advertising on Fayetteville radio was right for us," continues Mr. Quigg. "When I was in corporate sales, I was spending a lot of time in the car. My radio was always on. So, I knew it could reach the customers of Ed's Tire."
As his advertising strategy began to show positive results, Mr. Quigg stopped newspaper advertising altogether and started adding more Fayetteville radio stations into his mix.
"Every week that goes by," says Mr. Quigg, "five or six customers tell me they came in because they heard us on the radio."
"When it comes to spending money, I am very conservative," continues Mr. Quigg. "I don't like spending money I don't have to. Our sales have grown every year since I have owned the business. Radio has been a big spend for us, but it has also been a big part of our growth. I wouldn't be willing to do without it."
Advertising On Fayetteville Radio Delivers Strong ROI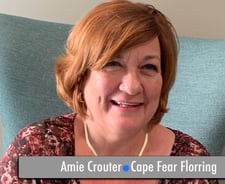 Cape Fear Flooring in Fayetteville started out as a carpet cleaning company 19 years ago operating out of a tiny house. This year, the company moved into a brand new, 6000 square foot showroom and warehouse along with its 28 employees.
"We began advertising on Fayetteville radio in 2000, a year after we opened," remembers co-owner, Amie Crouter. "We had just expanded into water mitigation a few months earlier. I had just set up an account with Mohawk, one of the largest manufacturers of floor coverings in the world. And, we had just sold our first flooring job even before we had hired an installer."
After 18 years, Cape Fear Flooring still advertises on Fayetteville radio. "Radio advertising has really driven our growth from the beginning," says Ms. Crouter. "We have always asked new customers how they found out about us. Overwhelmingly, we are told they heard our radio commercials."
"Since we started advertising on the radio, we've never stopped," she says. "Advertising on Fayetteville radio has provided an excellent return-on-investment for us."
Fayetteville Radio Reaches The Area's Transient Population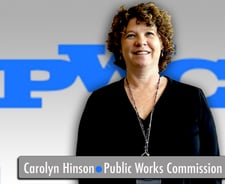 Since 1905, The North Carolina legislature has allowed PWC, to be the exclusive utility service provider in the Fayetteville area. As a result, they don't compete for customers because they already have every customer. So, why does the company continually advertise on local radio stations?
I get that question all time," says Carolyn Hinson, PWC's Communication & Community Relations Officer. "The fact is we are a monopoly. People don't have a choice of providers. We advertise continually on Fayetteville radio, though, as an effective way to communicate directly to our customers."
"I like to say that utilities don't come with an instruction manual," Ms. Hinson adds. "Our radio advertising really helps us to educate customers. Our commercials provide conservation and safety tips. Also, they allow us to explain how customers can lower monthly utility bills."
Fayetteville radio has become PWC's biggest form of advertising. When Ms. Hanson first came to PWC 20 years ago, the utility's use of radio was far more sporadic. This changed when she realized the transient nature of the market. "We are a military community," she says. "People are constantly moving in and out. Advertising on multiple radio stations consistently allows us not only to communicate with our current customers, but also reach our new customers as soon as they arrive."
Ms. Hanson is certain any area small business can benefit from advertising on Fayetteville radio. Her advice: "You don't need to choose the radio station with the most listeners to have a successful campaign, you need to choose the radio stations with the right listeners."
Radio Advertising Helps Our Businesses
Marketing expert Doug Schoen wrote an article for Forbes after he learned of local radio's resiliency in the digital age.
"You wouldn't know it from all the media coverage focused on streaming video and streaming music," wrote Mr. Doug Schoen, "but recent Nielsen data shows radio actually has the most reach among American media consumers."
He goes on to say, "It's quite clear that we should all be paying more attention to radio, its reach and potential to help our businesses. It's doing the job with expert efficiency."
More Advice For Fayetteville Small Business Owners