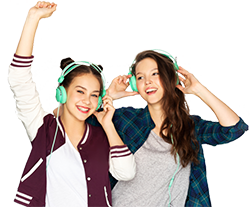 Marketers call them Generation Z. Fayetteville small business owners call them teenagers. Whatever 12-17 years old are called, they live in homes cluttered with video games, smartphones, and tablets. They have easy access to Snapchat, YouTube, Instagram, and hundreds of other apps their parents have never heard of.
What may come as a surprise to many local business owners, despite the abundance of options for teens, Fayetteville radio stations dominate their media consumption.
Last week, according to Nielsen, 29,200 teens tuned-in to Fayetteville radio. On average, each of these listeners spent 90 minutes a day.