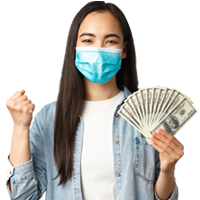 There is positive news for the 8,600 small businesses in the Fayetteville, North Carolina metro area. A majority of consumers say they are ready to start shopping again.
A lifestyle survey just released from Nielsen indicates 53% of Americans believe that despite the continuing pandemic, life is beginning to normalize, and they are likely to resume typical activities. Nielsen refers to this majority as "Ready-To-Go".
According to the survey, Ready-To-Go consumers now perceive less risk, feel safer, and believe their cities are emerging from crisis.
The key takeaway for Fayetteville small business owners is that Ready-To-Go consumers are significantly more likely to start shopping within 30 days than the total population. These buyers, according to Nielsen, are looking to spend on home improvement, professional services, auto parts/repair, shopping, food & dining, and travel.
To capture a meaningful share of the money Ready-To-Go consumers will be spending requires local small business owners to advertise. By almost every metric, advertising on Fayetteville radio is the best advertising option.