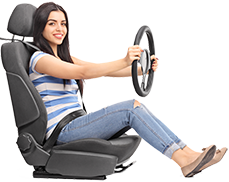 In 1930, the Galvin Manufacturing Corporation put the first car radio on the market. They called it the Motorola. This in-car entertainment would setback a Fayetteville consumer about $120 which would be equivalent to $1200 today.
But, if you had that kind of cash, you would be able to cruise around in your Ford Model-A, DeSoto, Packard, or Studebaker and hear the music of the day from radio stations in Charlotte, Raleigh, or Atlanta. It wouldn't be until 1939 when Fayetteville would have its own stations.
Today, there's a radio in almost every vehicle on the streets of Cumberland and Robeson Counties. Despite the competition on the dashboard from other sources of entertainment, AM/FM radio remains the dominant choice for in-car entertainment. This is great news for local business owners who depend on Fayetteville radio to market their goods and services.